What We Do

JAW Plumbing specializes in:
Industrial and commercial plumbing services. New installations, construction, maintenance and any plumbing systems.
We are Qualified to do the folowing:
• Solar geysers • Leaking taps • Heat pumps • Water filters • Leaking pipes • Electric geysers • Block drains • Water lines • Burst pipes • Bathes, showers, basins
Who We Are

JAW Plumbing Born in 2015:
We are a new business started in 2015. As a new company, our goal is to earn your trust and build a healthy relationship through our professional work ethic. We value our clients and look forward to servicing them for many years to come. "TRUST IS EARNED OVER TIME " .
Qualified in the folowing categories:
Plumbing precision, quality and passion are the building blocks of JAW Plumbing. We are PIRB registered registration no: 4199/14 Licensed Plumber, Qualified Plumber, Solar Qualified Installer and Heat Pump Qualified Installer.
Contact Us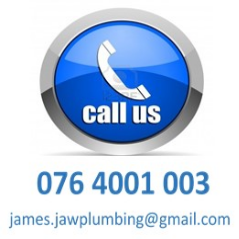 JAW Plumbing Call Us Now!
Cell: 076 4001 003
james.jawplumbing@gmail.com